When I got home yesterday after work, Charlie was excited to see me. Unlike the last few days with him being somewhat distant, he stayed close to me and gave me kisses and, after he ate his dinner, he came up on my bed with me. While his head was laying in my lap, I patted and rubbed his head and ears and paws and told him that this was our last night together.
I cried quite a bit and talked to him. He seemed normal, hardly coughing. I questioned myself again on whether or not I was doing the right thing.

They showed up promptly at 9am.  I wasn't ready.  I asked for five minutes.
Then they injected him to relax him and waited 10 minutes and then injected him with the final injection.  It took less than a minute after that and he took his last breath.
I didn't expect it all to go so fast.  Lucas and I cried the entire time.  Marcie was also there and it was so awesome that she took the time out to come by and say goodbye to Charlie.
After Charlie's last breath, Lucas pressed his paw into clay so he could make a box for his ashes with his paw print on top.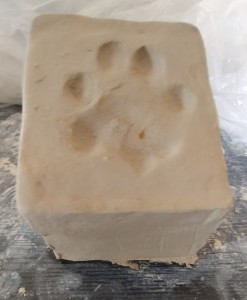 It is now 3pm and he has been gone for over five hours.  My head hurts and I cannot cry anymore today.